Baptism
We're so glad you've expressed interest in water baptism!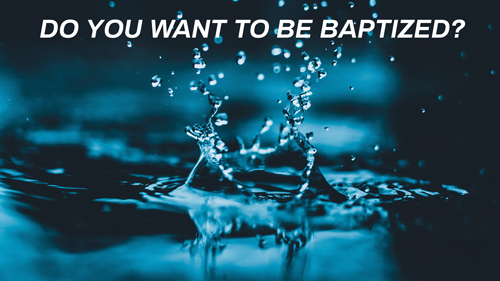 The following information is to help you understand water baptism - what it means, and who it is for.
What is baptism?
In the Old Testament, baptism means washing or cleansing. It was a ritual that symbolizes purity. In the New Testament, it continued to have that meaning, but another element was added. Baptism also became symbolic of death and resurrection. The immersion of the body under the water indicates death to an old way of life, and the raising of the body out of the water indicates the resurrection to a new way of life as a follower of Christ.
Who is baptism for?
If you have asked God to forgive you of your sins and have accepted Christ as your Lord and Savior, then you are a NEW creation in Him and water baptism is for YOU! It is a public statement and celebration of what God has done in you, and we want to celebrate with you!
Is there a minimum age to be baptized?
At ICC, we believe that it is important for a child to be old enough to make the personal decision to accept Christ. They need to be able to fully grasp and understand what that decision means as well as the representation behind baptism. The age of understanding will vary from child to child. It is important that a child's guardian take time to talk with them to make sure they fully comprehend. If your child is being baptized, you are welcome to be with them in the baptismal area.
What if I have been baptized before?
You may have been baptized as an infant, or you may have been baptized before as an adult, but have since rededicated your life to Christ. In both cases, it is important to signify your new life in Christ through water baptism. Jesus in Matthew 28:19, Mark 1:9 – 10, and John 3:22 – 23, and as demonstrated in Acts 8:36 – 38. Water baptism is a public profession of faith of the believer's new life in Christ Jesus.
For more information about water baptism, please contact Deacon Marius Oloumou at (240) 422-1204 or via email at: internationaltreeoflifechurch@gmail.com